(Richmond, KY) – On Thursday, June 11, 2015, the Kentucky State Police announced the 2014 Trooper of the Year, Detective of the Year, Commercial Vehicle Enforcement Officer of the Year, Facilities Security Officer of the Year and other awards for acts of bravery, life-saving, professionalism and dedication to duty at the Hyatt in Lexington. Several officers from Post 7, Richmond were honored at the ceremony.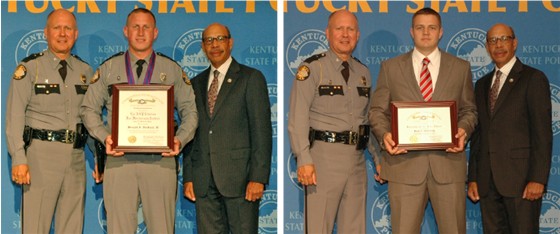 Trooper Joseph Vorbeck (center left photo) was presented with the KSP Citation for Meritorious Service with "V" Device for Valor. This honor is bestowed upon officers of the agency who distinguish themselves by an act of courage performed under more than ordinary circumstances. While working Carter County on May 23, 2012, Tpr. Vorbeck and another trooper, responded to an ongoing neighbor dispute involving an armed, intoxicated subject. Shortly after their arrival, they located the assailant in the back yard of his residence. After making a tactical approach to his location, they observed he was armed with two handguns in his waistband. The troopers began issuing him verbal commands not to touch the weapons and to put his hands up. The armed man reached into his waistband, retrieved a semi-automatic handgun and placed it on his lap while holding it in his right hand. He placed his index finger onto the trigger and made a threatening statement to the troopers before raising his pistol at the troopers. At this point, both troopers nearly simultaneously fired upon the armed man fatally wounding him. Tpr. Vorbeck is a resident of Richmond, a 2004 graduate of Madison Central High School, and is a 4-year veteran of KSP.
Detective Jesse Armstrong (center right photo) was Post 7's Detective of the Year. During the calendar year of 2014, Det. Armstrong responded to 80 complaints, opened 23 criminal cases, and made 13 criminal arrests. One case that exemplifies Detective Armstrong's investigative abilities, drive, and determination occurred in April of 2014. Following a residential fire where an elderly female was found deceased, and as a result of his investigation he determined that the female died prior to the fire of an apparent gunshot wound. With little information Detective Armstrong was able to develop a person of interest, locate the murder weapon, and make an arrest in which the suspect was indicted for murder and is currently awaiting trial. Det. Armstrong is a resident of London, a 2001 graduate of South Laurel High School, a 2005 graduate Eastern Kentucky University, and is a 6-year veteran of KSP.
Trooper Keith Parke was Post 7's Trooper of the Year. During the calendar year of 2014, Tpr. Parke demonstrated his commitment to highway safety by issuing 848 citations, including 124 speeding citations, 38 DUI arrests, and 87 seatbelt violations. In 2014, he also responded to 366 complaints, investigated 37 motor-vehicle collisions, opened 30 criminal cases, and made 220 criminal arrests. An example of Tpr. Parke's dedication to public safety happened on July 4, 2014, when he was involved in a foot pursuit while investigating a fight complaint. Following the arrest of the fleeing suspect, it was discovered that the subject was in possession of 75 baggies containing 2.5 total ounces of cocaine, 2 grams of marijuana, and $1,715.00 in U.S. currency. The suspect was charged and later pled guilty to five years in prison. Tpr. Parke is a resident of Richmond and has been a trooper with KSP for 3 years. ###