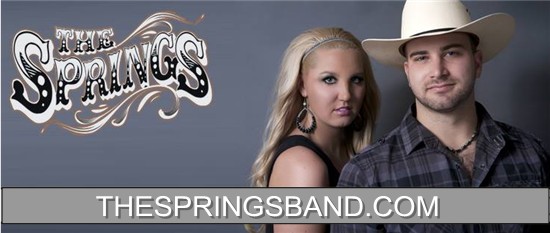 This Saturday, June 27th CMA Fest 2014 Up and Coming Artists The Springs duo, will be performing in Whitley City, Kentucky.
The Springs show will start at 8:00 P.M. and the male half of the duo, Stewart, has some close ties to Eastern Kentucky. His grandparents Robert and Margaret (Stewart) Halcomb met while attending Oneida Baptist in Clay County.
Stewart's granddad, Robert, is from Letcher County, and was born in Whitesburg; while his grandmother Margaret is from Barbourville in Knox County. They currently have a house in Corbin.
Stewart's dad, Randy, also attended Oneida Baptist. His parents went back to work there in the mid 1970's.
Both of Stewart's parents worked at Oneida as teachers in the early 1980's.
O.B.I. President Mr. Larry Gritton "The Halcombs are fine people and great supporters of our ministry."
"We have the Stewart family reunion every June at Thomas Walker Park", remarks Stewart. "Yes we have performed large coliseums and festivals all over the country, but that's nothing; with all my aunts, uncles, and cousins I have in this area, doing shows in eastern Kentucky is always like coming home."
Holly "We have never played before in Whitley City and it has been a while since we have been in the area. We are super excited to be back and to enjoy the McCreary County Fair. There is going to be things to do for the whole family. There will be carnival rides, a dunking booth, vendors, and live music."
This is your chance to see The Springs up close and in person.
As Nashville recording artists, they met while performing at the world famous Bluebird Café in Nashville Tennessee. Male vocalists Stewart had won a Paramount "Star Search" competition at the age of 16, while the female singer of the duo, Holly, had made it to the third round of the preliminaries of NBC's "The Voice" TV show.
The Springs performances are a cross between Jason Aldean and Carrie Underwood, offering something for everyone making for a sing-a-long crowd pleasing good time. This amazing duo has been blessed to perform their high energy country/southern rock shows with acts Hunter Hayes, Eric Church, Florida-Georgia Line, Jake Owen, Alan Jackson, Toby Keith, Reba, and many other top artists.
In a recent feature article in the Nashville Music Guide, it was stated that "There Has Never Been A Duo This Good, This Young In Country Music", ever!
Always a great event, you won't want to miss The Springs one of a kind high energy variety show; be ready, buckle up and hang on!