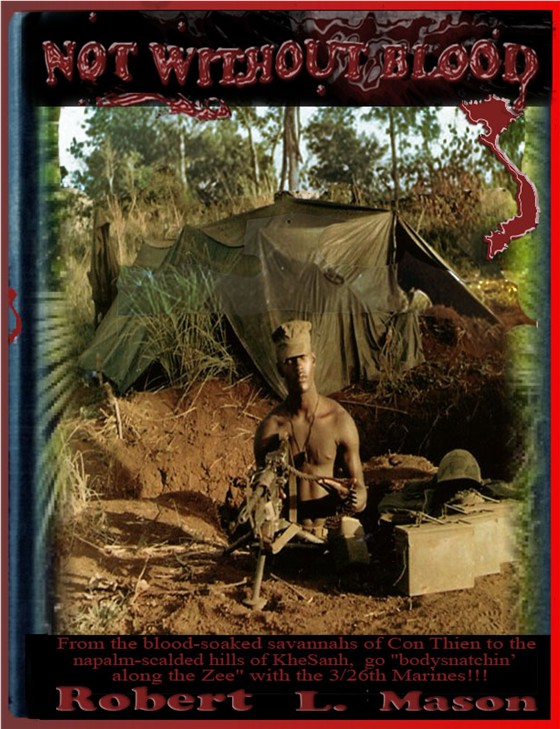 Author Robert L. Mason Announces Publication of Latest Manuscript offering
New Perspective on the Vietnam War and the Men who Fought It.
MANCHESTER, KY, June 29, 2015--With the brutal frankness of a "grunt" Marine and the poetic appeal of a master writer, Author Robert L. Mason offers a spellbinding account of his experiences and the experiences of "an entire generation of young men who left their homes and wives or sweethearts in the cities, small towns or rural outreaches of America and marched away to the carnage" of war.
An infantry machine-gunner (0331), Mason fought throughout the northern reaches of the I Corps theater with the 3rd Battalion of the 26th Marine Regiment (3/26th) from March of 1967 through late April of 1968. Not Without Blood exposes the daily diversions, dreams, lives and deaths of these bush-humping, grunt Marines--from "naked assaults against enemy strongholds...to nude assaults on Oriental skivvy-houses." From siege to bloody siege--from the blood-soaked savannahs of Con Thien to the napalm-scalded hills of Khe Sanh--this work takes readers "body-snatchin' along the Zee."
Thoroughly entertaining yet rich with history, Not Without Blood addresses the internecine strive that threatened to shatter the unity between Black, Hispanic and White fighting men, subsequent to the assassin- ation of Dr. Martin Luther King, Jr. in early April of 1968.
Marketed as an e-book with Amazon.com, Not Without Blood was released on June 25, 2015, just in time for the 4th of July holiday. Purchase price of the book is $9.99.
Mason is also author of The Ultimate Beagle: The Natural-Born Rabbit Dog (OTR Publications, 1997 [ISBN 0-940269-14-7] hardback), a work widely acclaimed as one of the best of its genre.
###
Visit our website to review excerpts from this latest work. For more information contact: Robert L. Mason, c/o Mason Books, P. O. Box 281, Manchester, KY 40962 (Phone 606-598-3899); ; http://robertlmason.com.