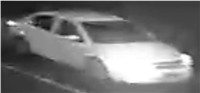 (Martin, KY) - The Kentucky State Police, Pikeville Post, is seeking the public's help in gathering information pertaining to a hit-and-run collision that occurred on June 18, 2015 in Floyd County.
On June 18, 2015, Jeffery Turner, 52 of Martin, was discovered fatally injured, lying in the roadway of KY Route 80 in the community of Martin. Investigation revealed that Turner's injuries were a result of being struck by a vehicle that had fled from the scene. KSP Detectives from Post 09 were able to obtain surveillance footage depicting a white passenger car in the area at the time of the incident. The vehicles make and model is unknown at this time.
Kentucky State Police is asking if anyone has any information pertaining to this case, please contact the Kentucky State Police Post 09, Pikeville at (606) 433-7711 or toll free at 1-800-222-5555. Callers can remain anonymous.