Manchester, Ky. - MPD is reporting that a local car wash has been vandalized and The Manchester Police Department needs your help in recovering property taken from the business.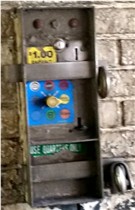 Sometime around July 4th the car wash at Frog Level was vandalized and the control box from one of the bays was taken.
If anyone has any information please contact the Manchester Police Department at (606)598-8411 ext.4.