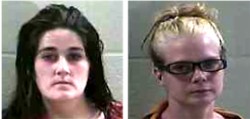 Laurel County, Ky. - Sheriff John Root is reporting that Deputy Larry Parrott along with Deputy Brandon Broughton arrested two individuals on East 4th St. at Tobacco Road on Wednesday night July 8, 2015 at approximately 8:31 PM.
The arrest occurred after deputies were dispatched to a complaint that a silver colored Chevrolet Malibu had been observed at a business off Highway 472 and that it's occupants were drinking alcohol in the vehicle.
Deputies observed the suspect vehicle on East 4th St. and conducted a traffic stop on it. The driver told deputies that her license was suspended and that she had been smoking marijuana and taking several types of street drugs that she had no prescription for.
An investigation was conducted by deputies and both the driver and passenger were determined to be under the influence.
Arrested was the driver – Brandi Miller age 30 of South Laurel Rd., London charged with driving on DUI suspended license – first offense; operating a motor vehicle under the influence – second offense; failure of non-owner operator to maintain required insurance – first offense; and numerous other traffic offenses. This subject was also charged on an outstanding Grant County warrant of arrest for failure to appear in court.
Also arrested was the passenger – Bridget Eversole age 28 of Little Drive Apartments, London charged with public intoxication – controlled substances and possession of open alcoholic beverage container in motor vehicle prohibited.
Both subjects were lodged in the Laurel County Detention Center.
Photos attached are courtesy of the Laurel County Detention Center.