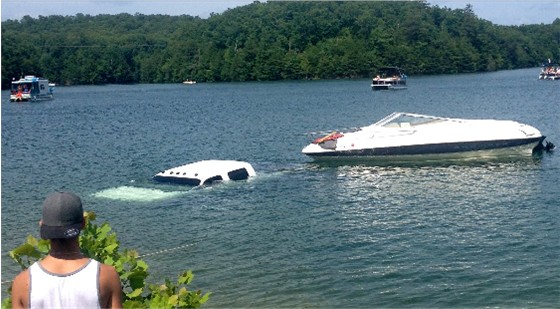 Laurel County, Ky. - Sheriff John Root is reporting that Deputy Charlie Johnson, SR is investigating an incident which occurred at the boat ramp at Holly Bay Campground, approximately 15 miles west of London on Saturday afternoon July 11, 2015 at approximately 2 PM.
Apparently two male subjects were attempting to launch their boat into the water there when they decided to back farther into the water.
Apparently Jeremiah Rettig age 39 of Union, KY couldn't get the 2005 Ford pickup truck from the park position into the reverse position, and he exited the vehicle.
The owner of the vehicle Christopher Rettig age 33 also of Union, KY scooted under the vehicle attempting to repair the shifter linkage.
While the owner was under the vehicle it came out of gear and rolled back into the water. As it rolled back into the water it struck the owner on the head causing a scalp laceration.
The owner was transported from the scene to urgent care by private vehicle for treatment.
Assisting at the scene was the US forest service, Kentucky Fish and Wildlife, Laurel County Emergency Management, and Laurel County Rescue Squad divers.
The vehicle was pulled from the water through assistance of divers and a local wrecker service.
Photo of the incident scene provided by Deputy Charlie Johnson, SR.