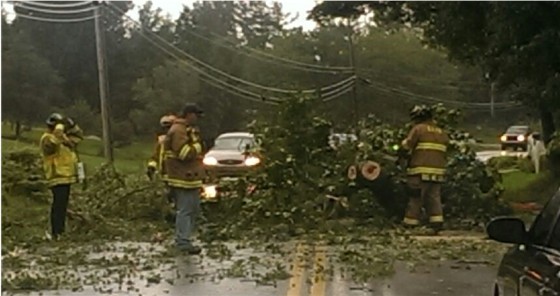 Laurel County, Ky. - Sheriff John Root is reporting that Deputy Brandon Broughton was dispatched to a non-injury traffic crash which occurred on KY 490, approximately 3 miles north of London on Monday afternoon July 13, 2015 at approximately 5:20 PM.
Deputy Broughton reports that a large tree fell completely across both lanes of travel as a result of a strong thunderstorm that passed through the Laurel County area, and a pickup truck traveling on KY 490 struck the tree causing damage to the pickup truck.
However, no injuries were reported. East Bernstadt Volunteer fire department responded to the scene cutting the tree up and removing it from the travel lanes.
In addition, trees were reported down on the Langnau School Road area in eastern Laurel County as McWhorter Fire Department responded to that area, and also in the Campground area of south eastern Laurel County with CampGround Fire Department responding to that area..
Photo of the tree being removed from KY 490 provided by Deputy Brandon Broughton.