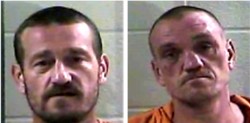 Laurel County, Ky. - Sheriff John Root is reporting that Deputy Andrew Lawson along with Bailiff Travis Napier arrested two individuals on KY 30, approximately 6 miles north of London on Saturday night July 11, 2015 at approximately 11:20 PM.
The arrests were the result of a traffic stop after Deputy Lawson observed a silver colored Honda Accord traveling at a high rate of speed – the vehicle was clocked by radar traveling 90 mph.
Deputy Lawson also observed the vehicle weaving on the roadway.
An investigation of the driver determined that he was under the influence (the odor of alcoholic beverages was emitting from this subject and a crusted white powder was observed in the nostril of this subject).
He was identified as Curtis Burkhart age 39 of Burning Springs, Manchester charged with operating a motor vehicle under the influence – first offense and speeding more than 26 mph over the limit.
Also arrested was Cecil Burkhart age 42 of Sizemore Park Road, Manchester charged with possession of drug paraphernalia and possession of marijuana – this subject had a metal pill container containing a straw with white powder residue on it.
In addition, this subject was charged on 2 Clay County indictment warrants of arrest charging assault second-degree – police officer is victim; fleeing or evading police – first-degree – on foot; resisting arrest; and theft by unlawful taking and was lodged in the Laurel County Detention Center.
Photos attached are courtesy of the Laurel County detention Center.