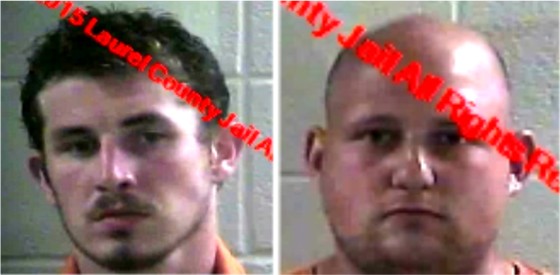 Laurel County, Ky. - Sheriff John Root is reporting that Deputy Larry Parrott arrested two individuals on Thursday afternoon July 16, 2015 at approximately 3:01 PM. The arrests occurred after Deputy Parrott was dispatched to a complaint that two male subjects were in the Slate Ridge Road area of Laurel County 7 miles south of London going door-to-door soliciting cash donations from citizens in the name of the USA Military.
Citizens in the area became concerned about the two individuals and called Laurel 911 dispatch – Deputy Parrott was nearby and responded to the complaint and located one individual on Slate Ridge Road and the other on Hopkins Cemetery Road nearby and conducted an investigation.
Deputy Parrott learned that the two individuals had previously worked for a company in Columbus Ohio that allegedly fixed care packages to send overseas to the troops, but were terminated from the company on Tuesday.
They had apparently kept material with the company's name on it and were now going door to door in Laurel County and collecting money and keeping it for themselves.
One customer at a local grocery mart had given a $50 cash donation.
Deputy Parrott arrested both individuals and they are identified as:
Dylan Bunch age 20 of Watch Rd., Corbin and Jonathan Webster age 20 Of Jefferson Ave. apartments, Kingsport Tennessee both charged with theft by deception and receiving stolen property.
Dylan Bunch was also charged on a Whitley County bench warrant of arrest after allegedly being dismissed from a rehab facility regarding charges of assault 4th degree and terroristic threatening – third-degree.
Both subjects were lodged in the Laurel County Detention Center.
Photos attached are courtesy off the Laurel County Detention Center.