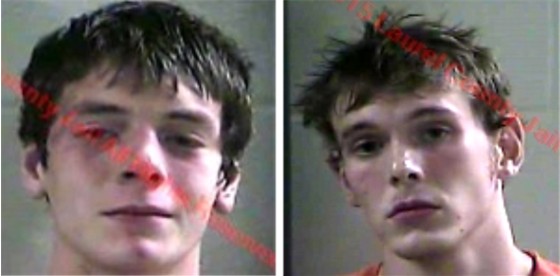 Laurel County, KY - Sheriff John Root is reporting that Deputy Tommy Houston along with Deputy Shawn Jackson arrested two individuals on Ky 490, approximately 5 miles north of London early Tuesday morning July 21, 2015 at approximately 2:29 AM.
Deputies were dispatched to a complaint of a male subject lying in the right lane of Ky 490.
When deputies arrived at the scene, they located one of the male subjects lying down, with his legs partially in the roadway. A vehicle had stopped there to keep vehicles from running over the subjects legs that were sticking out onto the roadway.
Deputies could detect the strong odor of alcoholic beverages emitting from this person.
An investigation was conducted by deputies where the subject stated that he was walking and just got tired and decided to lay down. Deputies determined that the subject was under the influence.
Apparently, the subject had been involved in a physical altercation with his brother earlier. Deputies had Laurel County EMS to check this individual but he refused treatment and cursed deputies and EMT's.
The subject was arrested and identified as Joshua Hollinshead age 18 of highway 490, East Bernstadt and was charged with alcohol intoxication in place; disorderly conduct – second degree; and menacing.
As the investigation continued by deputies this subject's brother, who also came to the scene, was determined to be under the influence also and was arrested and identified as Jacob Hollingshead age 20 of highway 490, East Bernstadt - charged with public intoxication – controlled substances.
Both individuals were lodged in the Laurel County Detention Center.
Photos attached are courtesy of the Laurel County Detention Center.