Laurel County, Ky. Sheriff John Root is reporting that Deputy Andrew Lawson is investigating the theft of a utility trailer that belonged to East Bernstadt Volunteer Fire Department.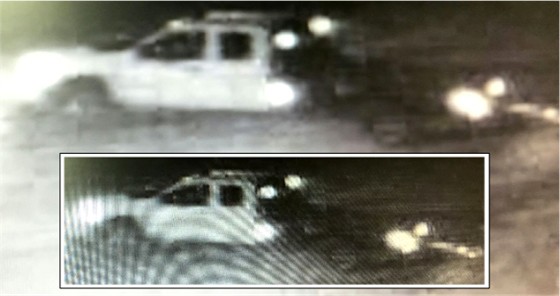 The theft occurred early Saturday morning July 25, 2015 between 12:48 AM – 1 AM.
The trailer was parked at the East Bernstadt fire department station and is described as a red utility trailer, 6' x 16', missing the front rails, a fold down gate, with the East Bernstadt fire department logo sticker attached, and the words – East Bernstadt fire department spray-painted on the floor.
Surveillance photos from the scene of the theft show a suspect vehicle leaving with the trailer and it is described as possibly a white Chevrolet 3500 extended cab flatbed model between 1999 and the mid-2000's year model or a Ford F350 white colored extended cab flatbed model.
Anyone with any information regarding the suspect vehicle or persons involved in the theft is asked to contact the Laurel County Sheriff's office at 606-864-6600 or 606-878-7000. Information will be strictly confidential.
Photo of the suspect vehicle attached. Investigation into the theft is continuing by the Laurel County Sheriff's office.