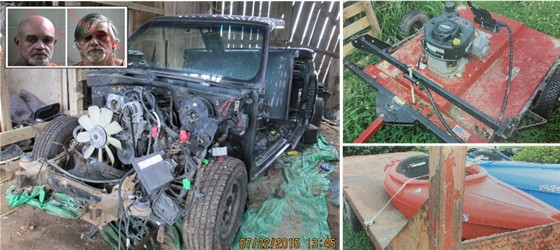 Laurel County, Ky. - Sheriff John Root is reporting that on July 22nd Detective Kevin Berry arrested two subjects --Timothy Fields and Ronnie Davis both of East Bernstadt, charging them with Receiving Stolen Property and other property related offenses. Two pickups were recovered-one partially dismantled and on completely dismantled.
In addition, also recovered at the scene were trailers, four wheelers, 2 kayaks, and other items that were suspected to be stolen.
On July 27th, Detective Berry met with 2 Laurel County residents who contacted the sheriff's office after they read on the sheriff's office Facebook page and heard on area news outlets about suspected stolen property (specifically kayaks) being recovered by deputies on KY 490 at a location.
The victims/owners positively identified 2 kayaks, a pull behind mower, and a utility trailer as being their property that had been stolen from them.
The property was released to the lawful owners.
The investigation is continuing by Detective Kevin Berry.
Photos of the kayaks, mower, and trailer provided by Deputy Kevin Berry.
The inset photos of the subjects are courtesy of the Laurel County Detention Center.
Related article: