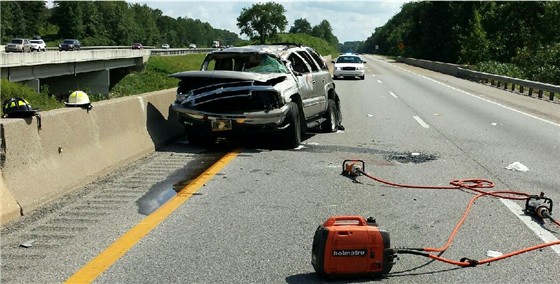 Laurel County, KY - Sheriff John Root is reporting that Deputy Kyle Gray assisted by KSP/CVE Officer Jerry Jones are investigating a single vehicle traffic fatality which occurred on I-75, approximately 5 miles south of London in the southbound lanes on Saturday afternoon August 8, 2015 at approximately 3:21 PM.
Deputy Kyle Gray reports that apparently a tan colored Chevrolet Tahoe was southbound on I -75, in the passing lane, when for some unknown reason swerved sharply to the right lane, then back to the left lane, and began rolling over approximately 4 or five times before coming to rest facing northbound off the passing lane and against a bridge structure there.
The driver (and only occupant) received fatal injuries and had to be extricated from the vehicle.
He was identified as:
M. Lincoln Patrick age 69 of Williamsburg-pronounced deceased at the scene by Doug Bowling, Laurel County Coroner.
The southbound lanes of I-75 were closed approx. 1 1/2 hours.
Assisting at the scene for Laurel Sheriff's office was:
Lieut. Greg Poynter, Sgt. Robbie Grimes, Deputy Rick Cloyd, Deputy Travis Napier and KSP/CVE Officer Durham.
Other agencies assisting included:
Laurel County Coroner Doug Bowling, London Laurel Rescue Squad, Laurel County Volunteer Fire Department, and Ambulance Inc. of Laurel County.
Investigation is continuing. Picture of crash site provided by Sgt Robbie Grimes.