Laurel County, KY - Sheriff John Root is reporting that Deputy Travis Napier along with Deputy Brandon Broughton investigated a two vehicle injury traffic crash which occurred on Ky 80 Monday afternoon August 10, 2015 at approximately 4:15 PM. about 1 mile east of London near Sally's Branch Road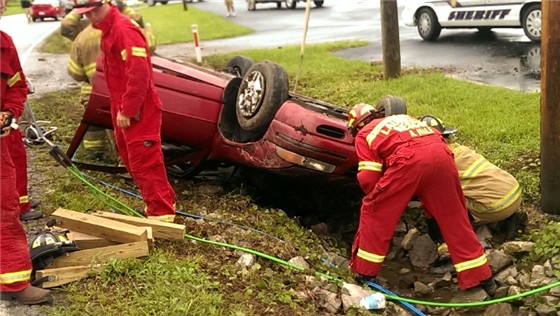 The investigating deputy reports that apparently a red Dodge Stratus was traveling westbound on a wet roadway, lost control and struck an eastbound red Ford Focus. The Dodge Stratus then overturned on its top coming to rest in a ditch there.
The driver and only occupant of the red Dodge Stratus was identified as: Darlene Wilson age 50 of Holly Fork Road, Sexton's Creek, KY – transported to St. Joseph Hospital London for treatment of possible injuries.
The driver and only occupant of the red Ford Focus was identified as Leeann Faulconer age 29 Of Farris Rd., London – no injuries reported.
Assisting at the crash site was-- Laurel County volunteer fire department, London Laurel rescue squad, Ambulance Inc. of Laurel County, and KSP/CVE officer Chris McQueen.
Photo of the crash site provided by Deputy Brandon Broughton.