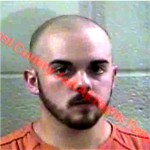 Laurel County, Ky. - Sheriff John Root is reporting that Deputy Andrew Lawson arrested Bradley Vaughn age 20 Of Huckleberry Ln., London early Friday morning August 14, 2015 at approximately 5:36 AM.
The arrest occurred off Mitchell Creek Road, approximately 2 miles west of London following the pursuit of a blue colored Chevrolet Camaro that Deputy Lawson observed failing to signal a turn. Deputy Lawson conducted a traffic stop on the vehicle on Russell Dyche Memorial Highway near London.
During the traffic stop, Deputy Lawson detected the odor of alcoholic beverages emitting from the driver. As Deputy Lawson was conducting his roadside investigation at the suspect's vehicle, when the suspect was asked to exit his vehicle, the suspect driver slammed his vehicle into drive while Deputy Lawson was standing next to the vehicle and fled from the scene of the traffic stop.
Deputy Lawson returned to his patrol car with emergency equipment still engaged pursuing the vehicle westbound on Russell Dyche Memorial Highway and turning onto Ridings Mitchell Creek Road, and finally turning left onto Mitchell Creek Road where Deputy Lawson lost sight of the vehicle temporarily.
Deputy Lawson located the blue colored Chevrolet Camaro abandoned on the side of the road on Mitchell Creek Road determining there that the male subject had ran into the woods. A short time later, the male suspect returned to the scene through assistance from a family member and was taken into custody.
The male subject told officers at the scene that he was sorry that he ran because he was scared.
Bradley Vaughn was charged with failure to signal; operating a motor vehicle under the influence first offense; fleeing or evading police – first-degree – motor vehicle; fleeing or evading police – first-degree – on foot; wanton endangerment – first-degree – police officer is the victim; and wanton endangerment – first-degree.
Bradley Vaughn was lodged in the Laurel County Detention Center.
Assisting on the investigation and arrest for Laurel Sheriff's office was:
Sgt. Larry Parrott and Deputy Shawn Jackson.
Assisting for Kentucky State police was:
Trooper Chris Saunders, Trooper Brandon Creekmore, and CVE Officer Mikey Hamblin.
Also assisting were officers from the London City Police Department.
Photo of suspect attached is courtesy of the Laurel County Detention Center.