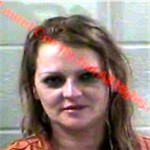 Laurel County, KY - Sheriff John Root is reporting that Deputy Tommy Houston along with Deputy Andrew Lawson and C.S.O. Ethan Lewis assisted by Constable Denver Mays arrested Tina France age 38 South Hwy. 1223 apartments, Corbin early Sunday morning August 16, 2015 at approximately 2:13 AM.
The arrest occurred off Ky 1223, approximately 10 miles south of London after deputies were dispatched to a possible burglary in progress at Cumberland Apartments.
When deputies arrived they located this subject and detected a strong odor of alcoholic beverages emitting from her person. Deputies conducted an investigation determining that this subject was under the influence.
In addition, they learned that this subject was attempting to make entry into an apartment other than her own.
When arrested, this subject became combative and created a disturbance in the area by screaming and cursing at deputies as she was assisted to a police car.
Tina France was charged with disorderly conduct – second degree; alcohol intoxication in a public place; resisting arrest; and menacing.
Tina France was lodged in the Laurel County Detention Center.
Photo attached is courtesy of the Laurel County Detention Center.