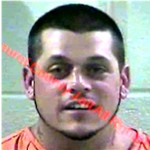 Laurel County, Ky. - Sheriff John Root is reporting that Sgt. Larry Parrott arrested Jason Hood age 36 of Sweet Hollow Rd., Apartments, Corbin on Tuesday night August 18, 2015 at approximately 11:56 PM.
The arrest occurred on Powers Lane, approximately 9 miles south of London after Sgt Parrott, who was on routine patrol, observed this subject staggering down the middle of the road.
Sgt. Parrott conducted an investigation and determined that this subject was under the influence.
Jason Hood was charged with alcohol intoxication in a public place and was lodged in the Laurel County Detention Center.
Photo attached is courtesy of the Laurel County Detention Center.