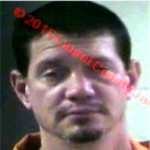 Laurel County, Ky - Sheriff John Root is reporting that Sgt. Larry Parrott along with Deputy Rick Cloyd arrested Jamie Holland age 39 Of Lavender Rd., Williamsburg on Wednesday night August 19, 2015 at approximately 10:28 PM.
The arrest occurred off Adams Road, approximately 11 miles south of London after deputies were dispatched to a complaint that a male subject was at a service station there and was apparently looking in the windows at a female attendant that was working inside the store.
When deputies arrived at the scene they located the suspect passed out behind the business in a gray colored Toyota Camry, driver in the driver's seat, keys in the ignition and the motor running. It took deputies several minutes to awaken the driver and an investigation was conducted and this subject was determined to be under the influence.
Jamie Holland was charged with operating a motor vehicle under the influence – first offense; no registration plates; failure of owner to maintain required insurance – first offense; failure to wear seatbelts; and other traffic violations and was lodged in the Laurel County Detention Center.
Photo attached courtesy of the Laurel County Detention Center.