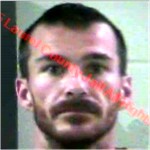 Laurel County, Ky. - Sheriff John Root is reporting that Sgt. Larry Parrott arrested Anthony Lawson age 36 Of Anders Rd., London early Thursday morning August 20, 2015 at approximately 3:08 AM.
The arrest occurred at Campground Court, approximately 10 miles south of London after deputies were dispatched to a complaint that a male subject was at an apartment there trying to beat the door down at a female's residence trying to gain entry.
When Sgt. Parrott arrived at the scene he found this male subject at the front door of the residence engaged in a verbal argument with the victim.
Sgt. Parrott conducted an investigation and learned that this subject had allegedly been involved in a physical altercation with the victim during the argument. In addition, this subject was creating a disturbance in the apartment complex.
Anthony Lawson was charged with assault – fourth degree – domestic violence; criminal trespassing – third degree; and disorderly conduct – second-degree. In addition, this subject was charged on a Laurel County bench warrant of arrest for failure to appear in court on numerous charges.
This subject was lodged in the Laurel County Detention Center.
Photo attached is courtesy of the Laurel County Detention Center.