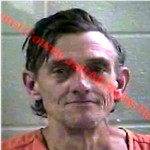 Laurel County, Ky. - Sheriff John Root is reporting that Deputy Milton Storm arrested Eddie Wagers 56 of Echo Valley Rd., Lily on Friday evening August 21, 2015 at approximately 5:30 PM.
The arrest occurred off Hanes Baker road, approximately 10 miles south of London after this subject was checked during a traffic stop and determined to have an outstanding warrant of arrest.
Eddie wagers was charged with a Laurel County warrant of arrest for trafficking in a controlled substance – first-degree – first offense – methamphetamine. – This subject allegedly trafficked in methamphetamine by selling 1.8 grams of methamphetamine for $200.
Eddie Wagers was lodged in the Laurel County Detention Center.
Photo attached is courtesy of the Laurel County detention Center.