Laurel County, Ky. - Sheriff John Root is reporting that Sgt. Brett Reeves is investigating a two vehicle injury traffic crash which occurred on Russell Dyche Memorial Highway (Ky 80), approximately 3 miles west of London on Wednesday morning August 26, 2015 at approximately 7:22 AM.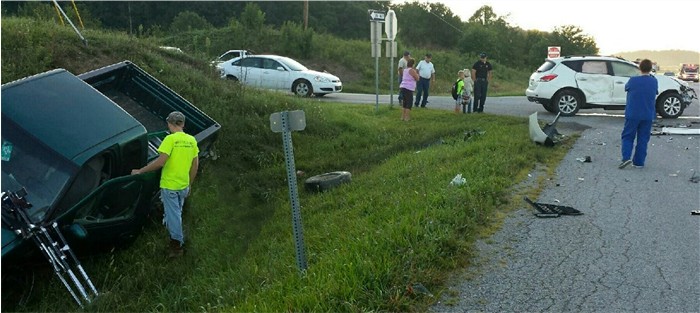 The Investigating deputy reports that apparently a white colored Nissan Murano was attempting to cross Russell Dyche Memorial Highway from Sinking Creek to Newberry Road and apparently did not observe a green colored Ford F-150 traveling westbound on Russell Dyche Memorial Highway.
Allegedly other traffic was present obscuring the Nissan Murano's driver's view of oncoming traffic.
The driver of the white colored Nissan Murano was identified as Brittney Taylor age 29 of High Moore Rd., London with two occupants in the vehicle, a nine-year-old female child and a seven-year-old male child – no injuries reported in this vehicle.
The driver and only occupant of the green colored Ford F-150 was identified as Michael Anderson age 33 of Bentley Rd., London--injured and transported to St. Joseph Hospital London for treatment.
Assisting at the scene was Ambulance Inc. of Laurel County and Colony Volunteer Fire Department.
Photo of the crash site provided by Sgt. Brett Reeves.