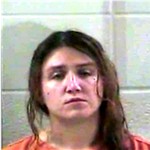 Laurel County, KY - Sheriff John Root is reporting that Deputy Shawn Jackson arrested Kasey King age 28 Of Cornelius Rd., London on Friday night, August 28, 2015, at approximately 11:25 PM.
The arrest occurred at Walmart near Corbin in southern Laurel County after Walmart's loss prevention team detained this subject.
When Deputy Jackson arrived at the scene and conducted an investigation, he learned that this subject had allegedly been observed concealing items on her person, and also concealing items on her six-year-old son who was with her, and attempted to leave the store without paying for the items valued at more than $62.
Kasey King was charged with theft by unlawful taking – shoplifting; and endangering the welfare of a minor and was lodged in the Laurel County Detention Center. Her six-year-old son was released to a family member.
Photo of accused is courtesy of the Laurel County Detention Center.