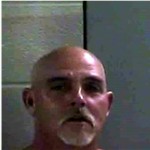 Laurel County, KY - Sheriff John Root is reporting that Deputy Travis Napier arrested Thurman Brock age 51 of US Highway 2392, Corbin on Saturday afternoon, August 29, 2015, at approximately 4:37 PM.
The arrest occurred off Cherry Hill Road, approximately 8 miles south of London after deputies were dispatched to a complaint that an intoxicated male subject was passed out on a front porch there.
When deputies arrived at the scene and conducted an investigation, they determined that this subject was under the influence.
Thurman Brock was charged with alcohol intoxication in a public place and prescription controlled substances not in proper container – first offense.
This subject was lodged in the Laurel County Detention Center.
Assisting on the investigation and arrest were Lieut. Greg Poynter and Sgt. Robbie Grimes.
Photo attached is courtesy of the Laurel County Detention Center.