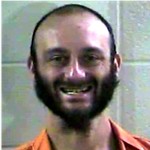 Laurel County, KY - Sheriff John Root is reporting that Deputy Kyle Gray along with Sgt. Robbie Grimes, Deputy Charlie Johnson, and Deputy Travis Napier arrested Gary Shell age 34 of West Hwy. 1376, East Bernstadt on Tuesday night, September 1, 2015, at approximately 10:06 PM.
The arrest occurred off Highway 1376, approximately 5 miles north of London after deputies were dispatched to a complaint that a male subject was in a residence smoking marijuana with a 13-year-old male juvenile.
When deputies arrived at the scene this male subjects slammed the front door to the residence and yelled at the 13-year-old juvenile to run – the 13-year-old ran out the back door of the residence, but was captured by Deputy Napier approximately a quarter mile away.
Gary Shell told deputies he did not know who ran out the back door of the residence.
Deputies conducted an investigation learning that the male juvenile was supposed to be with his grandmother, but instead, was present with this male subject smoking marijuana. The subject was also found to be in possession of marijuana.
Gary Shell was charged with unlawful transaction with a minor – first degree involving illegal controlled substance with a person under the age of 18; custodial interference; possession of marijuana; and possession of drug paraphernalia.
This subject was lodged in Laurel County Detention Center.
Photo attached is courtesy of the Laurel County Detention Center.