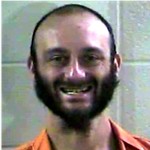 Laurel County, KY - Sheriff John Root is reporting that Deputy Kyle Gray along with Sgt. Robbie Grimes, Deputy Charlie Johnson, and Deputy Travis Napier arrested Gary Shell age 34 of West Hwy. 1376, East Bernstadt on Tuesday night, September 1, 2015, at approximately 10:06 PM.
The arrest occurred off Highway 1376, approximately 5 miles north of London after deputies were dispatched to a complaint that a male subject was in a residence smoking marijuana with a 13-year-old male juvenile.
UPDATE: Deputy Gray also filed charges on the 13-year-old male juvenile following an investigation after he learned that this subject, in addition to smoking marijuana, had reportedly stolen his grandmother's EBT card and used it on 2 different occasions earlier in the day at a local convenience store.
In addition, the grandmother reported that apparently this subject becomes violent, runs away and that she couldn't handle him.
Deputy Gray placed charges of fleeing or evading police – first degree – on foot; fraudulent use of a credit card under $500 within six months; and juvenile runaway. A detention hearing was held in Laurel juvenile court on Wednesday and this subject has been detained.
Photo attached is courtesy of the Laurel County Detention Center.
Related article:
Man charged with unlawful transaction with a minor - Laurel County, KY