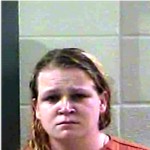 Laurel County, KY - Sheriff John Root is reporting that Sgt Larry Parrott arrested Kristin Delisle age 27 of Corbin Manor Apartments, Corbin early Sunday morning, September 6, 2015, at approximately 12:30 AM.
The arrest occurred on American greeting card road, approximately 10 miles south of London after this subject driving a black colored Ford fusion was checked at a traffic safety checkpoint there.
During the investigation Sgt. Larry Parrott could smell the odor of alcoholic beverages emitting from this subject. Field sobriety tests were given and this subject was determined to be under the influence.
This subject told Sgt. Parrott that she was taking Nuerotin, Xanax, Percocet, and had smoked marijuana earlier – also stating that all were prescription medications.
Kristin Delisle was charged with operating a motor vehicle under the influence – first offense; no operator's license; failure of owner to maintain required insurance – first offense; no registration plates; failure to wear seat belts; and other traffic violations and was lodged in the Laurel County Detention Center.
Other deputies assisting at the Labor Day Holiday weekend – traffic safety checkpoint included Deputy Andrew Lawson, Deputy Tommy Houston, Deputy Shawn Jackson, and Detective Kevin Berry.
Photo of accused is courtesy of the Laurel County Detention Center.