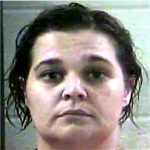 Laurel County, KY - Sheriff John Root is reporting that Deputy Tommy Houston along with Deputy Shawn Jackson arrested Dana Eversole, age 33, of West Hwy. 1376, East Bernstadt early Tuesday morning, September 8, 2015, at approximately 12:14 AM.
The arrest occurred off Bethel Hill Road, approximately 5 miles north of London after deputies were dispatched to a complaint of possible drug activity there.
As deputies arrived at the scene, this subject fled from a vehicle and ran into a residence there and was found by deputies hiding in a bedroom closet.
As deputies investigated, they determined that this subject was wanted on a Laurel County indictment warrant of arrest charging trafficking in a controlled substance – first-degree – first offense; tampering with physical evidence; operating a motor vehicle under the influence; and persistent felony offender II.
In addition, deputies charged this subject with fleeing or evading police – second degree – on foot; giving officer false name or address; resisting arrest; menacing; and disorderly conduct – second degree and lodged this subject in the Laurel County Detention Center.
Photo attached is courtesy of the Laurel County Detention Center.