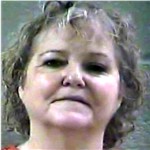 Laurel County, KY - Sheriff John is reporting that Bailiff Cody Faulconer arrested Janet Lynn Reed, age 63, of Grayhawk, KY on Wednesday morning, September 9, 2015, at approximately 10:08 AM.
Bailiff Faulconer was flagged down at the Laurel County judicial Center in downtown London regarding a female subject who had allegedly fallen down there. Upon arrival and contact with this subject it was determined that she was not injured, but was apparently under the influence.
An investigation was conducted and she was determined to be under the influence. This subject admitted taking Xanax.
In addition, officers found her in possession of three plastic bottles containing 19 pills determined to a schedule 4 drug.
Janet Reed was charged with public intoxication – control substances and prescription controlled substances not in proper container.
This subject was lodged in the Laurel County Detention Center.
Photo attached is courtesy of the Laurel County Detention Center.