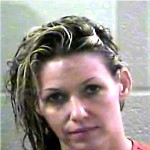 Laurel County, KY - Sheriff John Root is reporting that Deputy Tommy Houston along with Sgt. Larry Parrott and Deputy Andrew Lawson arrested Melissa Mills, age 40, of Cherokee Lane, London early Wednesday morning, September 9, 2015, at approximately 3:22 AM.
The arrest occurred on Old Whitley Road, approximately 2 miles south of London after deputies were dispatched to attempt to locate a black colored Chevrolet Cobalt that had allegedly fled the scene of a domestic where the driver was reportedly possibly under the influence.
Deputies observed a vehicle matching the description of the suspect vehicle and observed it make a turn nearly striking a tree and crossed the centerline.
Deputies conducted a traffic stop on the vehicle and determined the driver was under the influence. The driver stated that she had taken Suboxone and Xanax.
Melissa Mills was charged with operating a motor vehicle under the influence – first offense; failure to signal; failure to wear seatbelts; prescription controlled substances not in proper container – first offense and was lodged in the Laurel County Detention Center.
Photo attached is courtesy of the Laurel County Detention Center.