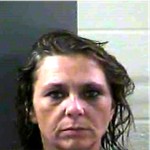 Laurel County, KY - Sheriff John Root is reporting that Deputy Andrew Lawson along with Detective Kevin Berry arrested Linda Rahe, age 42, of Fariston Rd., London on Tuesday night, September 8, 2015, at approximately 11:56 PM.
The arrest occurred off VCJ Lane, approximately 4 miles south of London after deputies were dispatched to a possible domestic complaint involving a mother and her 14-year-old daughter.
When deputies arrived at the scene and conducted an investigation, they met the mother in the driveway of the residence and detected the odor of alcoholic beverages emitting from her.
They learned through investigation that apparently an argument had occurred between the two and that this subject allegedly threw her drink at her 14-year-old child and then began trying to assault her while other family present tried to keep her away from child.
Deputies located red marks on the 14-year-old arms learning from the victim that her mother had hit her several times.
When arrested, this subject told the child's father to go in the home and get all of her children's things that she doesn't want her to be in her home when she gets back from jail.
Linda Rahe was charged with assault – 4th degree – child abuse and alcohol intoxication and was lodged in the Laurel County Detention Center.
Photo attached is courtesy of the Laurel County Detention Center.