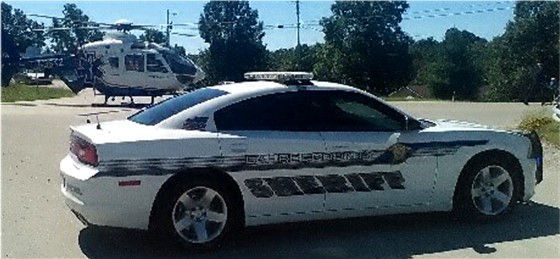 Laurel County, Ky. - Sheriff John Root is reporting that Deputy Josh Scott assisted Ambulance Inc. of Laurel County and Air Methods medical helicopter on Ky 770 approximately 10 miles south of London on Monday afternoon September 14, 2015.
Deputy Scott conducted traffic control on Ky 770 while a helicopter landed on the roadway there to airlift a stroke victim to UK hospital for treatment of a life threatening medical event.
The Laurel County Sheriff's office routinely assists Ambulance Inc. of Laurel County and medical helicopters with victims of medical emergencies to provide the quickest transport to a trauma rated healthcare facility.
Pictured is Laurel Sheriff's Office Deputy Josh Scott assisting Air Methods on Ky 770 today.