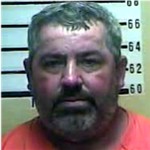 Pineville, KY - On September 11, 2015, Detectives with the Kentucky State Police Drug Enforcement/Special Investigations and Post 10 executed an arrest warrant and search warrant on Mr. Ricky Goodin of Bell County and County Gun and Pawn.
KSP Detectives were made aware of threats made by Mr. Goodin to arrange for the murder of another person.
Upon further investigation an arrest warrant was obtained and exectued on Mr. Goodin on charges of Criminal Solicitation and Murder.
Mr. Goodin was lodged in the Bell County Detention Center and his bond was set at $1,000,000.00 cash.
This case remains under investigation by KSP.
Photo of the accused courtesy of the Bell County Detention Center.