Laurel County, KY - Sheriff John Root is reporting that Deputy Kyle Gray along with Deputy Brandon Broughton investigated a 2 vehicle hit and run injury traffic crash which occurred on KY 229 approximately 8 miles south of London on Monday afternoon, September 14, 2015, at approximately 3:17 p.m.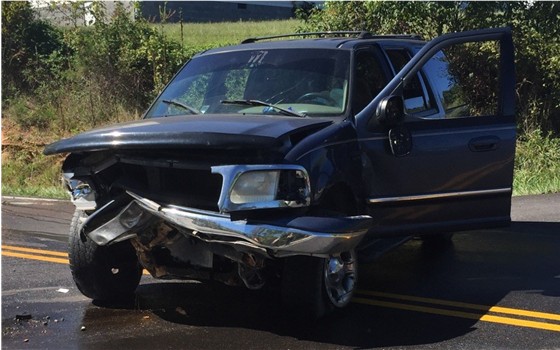 The investigating deputy reports that apparently a Ford expedition was traveling southbound on Kentucky 229 when it was struck by a northbound dark colored semi tractor trailer coal hauler.
The tractor-trailer coal truck fled the scene and has not been located- it has damage to the front driver side of the tractor.
The driver of the Ford Explorer was identified as: Michael Gilley age 35 of Barbourville – transported by PHI helicopter to UK Medical Center for treatment of serious injuries.
Assisting at the scene of the crash was Ambulance Inc. of Laurel County, and Campground Volunteer Fire Department.
Anyone with any information regarding the tractor-trailer coal truck that fled the scene of the crash is asked to contact the Laurel County Sheriff's office at 606-864-6600 or 606-878-7000 – information will be strictly confidential.
Photo of the crash site provided by Deputy Kyle Gray.