Manchester, KY - MPD is reporting that on September 16, 2015 Manchester Police Department Officer Jeff Couch was dispatched to a shoplifting complaint at a business located in the Manchester Shopping Center.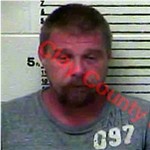 Upon arrival Officer Couch determined that the person was Arlie Patrick of Manchester and that he was wearing a home incarceration bracelet on his ankle and that he had fled the scene prior to the officer's arrival.
Officer Logan Wolfe and Assistant Chief Patrick Robinson was dispatched to assist Officer Couch.
Arlie Patrick was discovered hiding in a creek bed on Lovers Leap Road.
After a foot chase Arlie Patrick was taken into custody and was charged with theft by unlawful taking and fleeing and evading police.
Photo courtesy of the Clay County Detention Center.
Source: Manchester Police Department