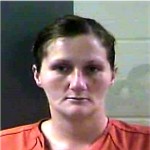 Laurel County, Ky. - Sheriff John Root is reporting that Deputy Milton Storm arrested Crystal Reynolds age 28 of Ryan's lane, Gray,Ky on Thursday night September 17, 2015 at approximately 8:30 PM.
The arrest occurred at Walmart near Corbin in southern Laurel County after Walmart's loss prevention team detained this subject.
When Deputy Storm arrived at the scene and conducted an investigation he learned that this subject had allegedly been observed switching price tags on items and then going through self checkout with unpaid merchandise totaling $19.00.
In addition, this subject had previously been caught shoplifting and had been banned from the store. Deputy Storm also noticed a white powder around this subject's nostrils and learned that she had snorted Wellbutin.
Crystal Reynolds was charged with theft by unlawful taking – shoplifting; criminal trespassing – third-degree; and public intoxication – controlled substances and was lodged in the Laurel County Detention Center.
Photo of Crystal Reynolds courtesy of the Laurel County Detention Center.