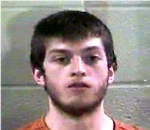 Laurel County, Ky. - Sheriff John Root is reporting that Deputy Brandon Broughton arrested Derick Mullins age 20 Robinson Creek Rd., London on Thursday night September 17, 2015 at approximately 10:23 PM.
The arrest occurred off Byrant's Way approximately 3 miles west of London after Deputy Broughton received a complaint of a suspicious male subject walking around in a subdivision and a vehicle parked at a nearby business.
When Deputy Broughton arrived at the scene and conducted an investigation on a subject that he located in the vicinity that fit the description of the suspicious person, he determined that this individual was under the influence.
In addition, this subject gave a false name to Deputy Broughton apparently because he had outstanding warrants of arrest. Deputy Broughton also located this subject in possession of several syringes and an open Suboxone pack and an EBT card that belonged to someone else.
Derick Mullins was charged with public intoxication – controlled substances; giving officer a false name or address; possession of drug paraphernalia; and intent to defraud\scheme\artifice to obtain benefits under $10,000.
In addition, this subject was charged on three Laurel County bench warrants of arrest for failure to appear in court on charges of theft by unlawful taking – shoplifting and numerous traffic offenses.
Derick Mullins was lodged in the Laurel County Detention Center.
Photo attached is courtesy of the Laurel County Detention Center.