Laurel County, KY - Law enforcement agencies across the nation are outfitting their marked patrol vehicles with common patriotic mottos. In response to recent violence against law enforcement officers, more and more agencies are placing phrases like "God Bless America," or "In God We Trust" on their marked patrol cars.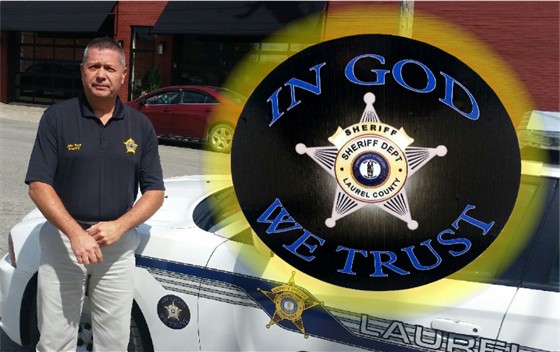 Sheriff John Root is reporting that he has purchased decals with his own personal money to outfit each of his sheriff's office marked patrol vehicles. The decals have the wording "In God We Trust".
Sheriff Root stated, "It's a patriotic symbol from our country's founding fathers and a symbol of moral values in Kentucky and Laurel County."
Pictured is the decal, and a photo of Sheriff Root standing next to one of his office's marked patrol cars.