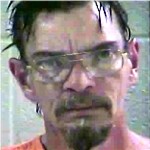 Laurel County, KY - Sheriff John Root is reporting that Sgt. Robbie Grimes along with Deputy Kyle Gray arrested Claude Henegar, age 47, of Green Meadows Rd., London, on Wednesday afternoon, September 23, 2015, at approximately 5:04 PM.
The arrest occurred off Green Meadow Road, approximately 1 mile west of London after deputies were dispatched to a domestic violence complaint.
Upon arrival and conducting an investigation, they learned that this subject had been involved in a physical altercation with his girlfriend.
The female victim had visible bruising on her right eye and bruising on her back.
Claude Henegar was charged with assault - fourth degree and alcohol intoxication. He was lodged in the Laurel County Detention Center.
Photo attached is courtesy of the Laurel County Detention Center.