Laurel County, KY - Sheriff John Root is reporting that Deputy Brandon Broughton along with Deputy Jamie Grimes investigated a two vehicle injury traffic crash which occurred at the junction of Old KY 30 and KY 3094, approximately 4 miles north of London on Thursday afternoon, September 24, 2015, at approximately 2:11 PM.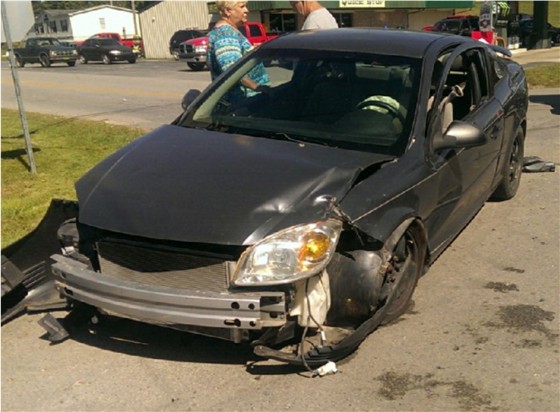 The investigating officer reports that apparently a black colored Chevrolet Cobalt was traveling on KY 3434 and made a right turn onto KY 3094 traveling into the path of a black colored Jeep Wrangler and collided with it.
The Chevrolet Cobalt had one occupant – the driver – Donald Simpson, age 68, of Asher, Kentucky – no injuries reported.
The black Jeep Wrangler had one occupant – the driver – Renonda Evans, age 50, Rocky Branch Rd., East Bernstadt.  She was transported to St. Joseph Hospital London by Ambulance Inc. Laurel County for treatment of possible injuries.
Assisting at the crash site was London Laurel rescue squad, Ambulance Inc. of Laurel County, and East Bernstadt volunteer Fire Department.
Photo attached crash site courtesy of Deputy Brandon Broughton.