Clay County, Ky. - According to Sheriff Kevin Johnson, on Monday September 21, 2015 Deputy Mike Havicus responded to a complaint dispatched over the radio that a car had been reported stolen.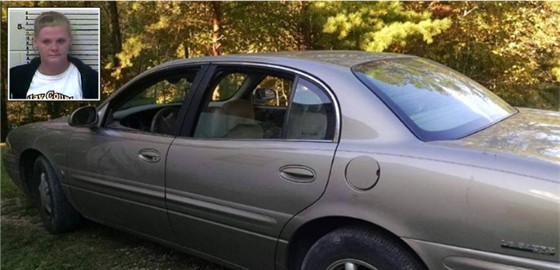 In the early morning hours of 9/21/2015, Ms. Rhonda Miller reported that her car had been stolen. She informed dispatch and Deputy Havicus that she might know where her vehicle was and arranged to meet with officers to discuss the location.
Miller explained that Andrea Sizemore had stolen the vehicle and it was located near a residence of one of Sizemore's friends. Deputy Havicus and Ms. Miller went to the location and located Mrs. Miller's vehicle, a Buick LeSabre.
A short time later that evening, Andrea Sizemore, age 28 of Manchester, KY was located and arrested.
Sizemore was charged with Theft by Unlawful Taking, over $10,000.00 and lodged in the Clay County Detention Center.
Inset photo of the accused courtesy of the Clay County Detention Center.
Photo of car by Deputy M. Havicus. (CCSO)
Sources: Clay County Sheriff's Office - Clay County Detention Center