Laurel County, Ky. - Sheriff John Root is reporting that Deputy Jamie Grimes is investigating a single vehicle non-injury traffic crash which occurred on Ky 1189 near Ky 229 on Friday afternoon September 25, 2015 at approximately 2:30 PM.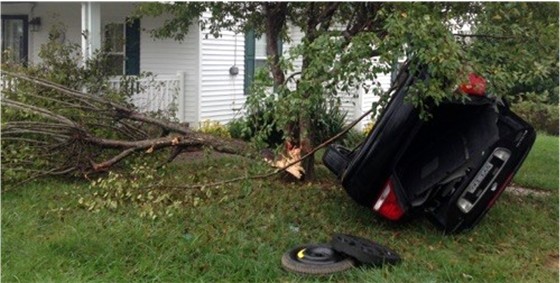 The investigating deputy reports that apparently a vehicle traveling on Ky 1189 lost control on the rain slick highway, traveling off the road, struck a tree and overturned in a front yard of a residence there.
The driver of the vehicle was identified as Seth Wilder age 25 of Sasser School Rd., London – not injured.
Assisting at the scene was Campground Volunteer Fire Department.
Photo of crash provided by Deputy Jamie Grimes.
Sheriff John Root is reporting that numerous traffic crashes-both injury and non-injury- have been occurring all afternoon and evening in Laurel County, and he urges drivers to exercise caution the remainder of the evening due to the forecast of continuing rainfall.