Laurel County, KY - Sheriff John Root is reporting that Deputy Shawn Jackson arrested Anthony Popejoy, age 35, Robert E Cox Rd., Apartments, Corbin, early Sunday morning September 27, 2015, at approximately 12:47 AM.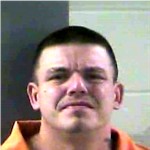 The arrest occurred off of Robert E Cox Road, approximately 10 miles south of London after Deputy Jackson was dispatched to a complaint that this subject's vehicle had allegedly been stolen.
Upon arrival and after conducting an investigation, it was determined that the theft report was unfounded and that in fact, his wife was driving the vehicle and that he was attempting to get her arrested.
In addition, as this investigation continued, Deputy Jackson found this subject to be in possession of reported stolen property to include a cell phone valued at $350, a wallet valued at $35 along with a money card valued at $200.
Deputy Jackson returned the stolen items back to their lawful owner. When this subject was arrested, he became noncompliant and Deputy Jackson had to escort him to the police cruiser.
Anthony Popejoy was charged with falsely reporting an incident; receiving stolen property under $10,000; and resisting arrest and was lodged in the Laurel County Detention Center.
Photo attached is courtesy of the Laurel County Detention Center.