Laurel County, KY - Sheriff John Root is reporting that Sgt. Brett Reeves is investigating a single vehicle injury traffic crash which occurred on Money Road, approximately 11 miles north of London early Wednesday morning September 30, 2015 at approximately 7:26 AM.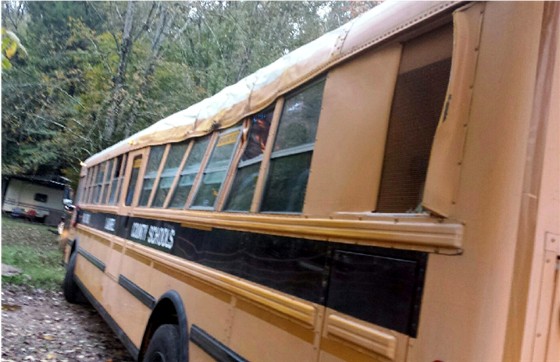 The investigating deputy reports that apparently 2006 international Laurel County school bus ran off the roadway in a curve striking a tree there. The driver stated that he looked back at the students on the bus and when he looked back on the road he traveled off the left side of the roadway striking a tree.
There were over 30 students on the bus at the time the crash. One was transported to St. Joseph Hospital London for treatment and two were checked at the scene by EMS.
Another bus was brought to the scene to transport students on to school. The driver of the bus was identified as Joseph Parker age 61 of East Bernstadt.
Assisting at the scene of the crash was Deputy John Inman, Cpl. Jack Caudill, Ambulance Inc. of Laurel County and Laurel County school officials.
Photo of crash site provided by Sgt. Brett Reeves.