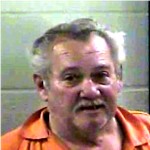 Laurel County, KY - Sheriff John Root is reporting that Deputy Jamie Grimes arrested Freddie Melson, age 67, of Finley's Trailer Park, London, on Thursday afternoon, October 1, 2015, at approximately 4:09 PM.
The arrest occurred on Court Road, approximately 2 miles south of London after Deputy Grimes was dispatched to a non-injury traffic crash there.
Upon arrival at the scene and conducting an investigation, Deputy Grimes learned that this subject was the driver of a green colored Lincoln Town Car that had wrecked in a ditch there.
Deputy Grimes conducted an investigation on the driver who tried to flee the scene on foot when Deputy Grimes arrived to investigate. The driver was determined to be under the influence.
Freddie Melson was charged with operating a motor vehicle under the influence – first offense; fleeing or evading police – second-degree – on foot; and menacing and was lodged in the Laurel County Detention Center.
Photo attached is courtesy of a Laurel County Detention Center.