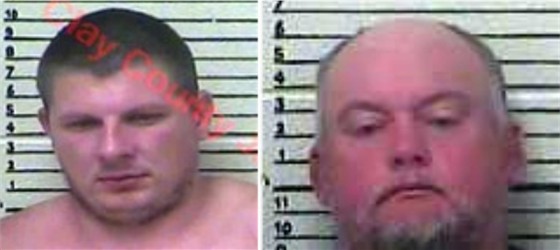 Clay County, KY - Sheriff Kevin Johnson is reporting that Deputy Michael Havicus arrested Dewey Smith age 25 and Jerry Collins age 47 of Ky highway 149 in the early morning hours of 10/3/15.
Around 0400 hours Deputy Havicus was dispatched to a stolen ATV complaint at D&J Pawn Shop in the Garrard Community. Dispatch advised that whom ever had stolen the ATV was headed up KY Highway 11.
Deputy Havicus observed Mr. Smith and Mr. Collins pushing a black Suzuki ATV with Mr. Collin's Red Honda Rancher ATV around a mile up South Highway 11.
Both Subjects had Strong odors of alcohol coming from their person and was unsteady on their feet.
Dewey Smith and Jerry Collins was arrested for (TBUT or Disp - Farm Equipment $500.00 or More but u/$10,000 (ATV) and (Oper Mtr Veh Under Influence alc/drugs/etc.08 - 1st Offense.) and lodged into the Clay County Detention Center.
Photos courtesy of the Clay County Detention Center.