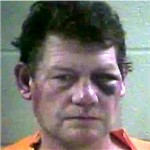 Laurel County, KY - Sheriff John Root is reporting that Deputy Shawn Jackson along with Sgt. Larry Parrott, Deputy Tommy Houston, Deputy Kyle Gray, Deputy Brandon Broughton, and Deputy Jamie Grimes arrested Paul Minton, age 48, of Ravenwood Estates, London on Monday night, October 5, 2015, at approximately 10:35 PM.
The arrest occurred off of Ravenwood Estates, approximately 2 miles west of London after deputies were dispatched to a physical domestic violence altercation involving a female victim.
When deputies arrived at the scene the male suspect fled into the residence and was located by deputies in the back bedroom of the residence. Deputies learned that this subject had allegedly punched a female victim in the face with his fist.
Following a short scuffle with the suspect, he was taken into custody and refused to walk out of the residence and had to be carried out.
This subject created a disturbance in the neighborhood while being escorted to the cruiser.
Paul Minton was charged with assault fourth degree – domestic violence; resisting arrest; menacing; and disorderly conduct – second-degree.
This subject was lodged in the Laurel County Detention Center.
Photo of the accused is courtesy of the Laurel County Detention Center.