Laurel County, KY - Sheriff John Root is reporting that Deputy Kyle Gray arrested two individuals on Monday night, October 5, 2015, at approximately 7:45 PM.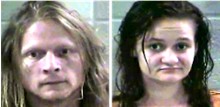 The arrests occurred off of Parker Road near West London Baptist Church after Deputy Gray investigated 2 suspicious subjects found outside West London Baptist Church.
An investigation was conducted and both subjects were determined to be under the influence. Both advised they had been smoking marijuana and shooting up Suboxone earlier.
Arrested was Mark Allen Paul, age 42, of Howser St., Corbin and Kari Ann Lawson, age 19, of Wilder St., Corbin, both charged with public intoxication – controlled substances and were lodged in the Laurel County Detention Center.
Photos attached are courtesy of the Laurel County Detention Center.