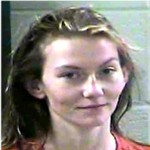 Laurel County, KY - Sheriff John Root is reporting that Sgt. Larry Parrott along with Deputy Andrew Lawson arrested Jennifer Grubb age 21 of south KY 1629, Corbin early Thursday morning October 8, 2015 at approximately 5:09 AM.
The arrest occurred off Appaloosa Trail, approximately 10 miles south of London after deputies were dispatched to a domestic violence complaint there.
Upon arrival deputies learned that this subject had apparently created a disturbance by breaking windows and tearing up her mother's home there. In addition, deputies learned that she had grabbed and pushed her mother during a brief altercation.
Deputies located this subject trying to get in a residence near by. Deputies conducted an investigation and determined that this subject was under the influence and was also creating a disturbance in the neighborhood.
Jennifer Grubb was charged with assault – fourth degree – domestic violence: public intoxication – control surfaces; and disorderly conduct – second-degree and was lodged in the Laurel County Detention Center.
Photo of accused is courtesy of the Laurel County Detention Center.