Anne Shelby, singing storyteller, and multi-instrumentalist Jessie Lynne Keltner will represent Clay County
Berea, KY - For over four decades, the Celebration of Traditional Music at Berea College has presented homemade music passed down from person to person in the Appalachian mountain region. Established by Loyal Jones (former director of the Berea College Appalachian Center), the festival was to give voice to lesser-known musicians who were masterful storytellers, fiddlers, ballad singers and banjo players, and to make recordings of these artists which are now a mainstay of Berea College's Special Collections and Archives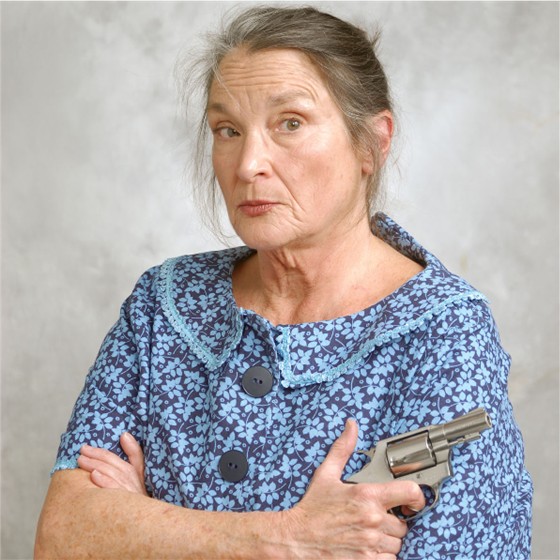 Anne Shelby portraying Aunt Molly Jackson as she does in her one-woman play Pistol Packin' Woman
Now in its forty-second year, the Celebration of Traditional Music at Berea College continues to present this down-home music for enjoyment by scholars, musicians and music lovers alike. This year's Celebration, to be held October 15-18 on campus at Berea College, will offer a variety of opportunities to enjoy, sing, dance and learn to play old-time music. All events are open to the public and unless noted, there is no charge for admission.
This year's festival will focus on the music of Eastern Kentucky. Anne Shelby, singing storyteller, and multi-instrumentalist Jessie Lynne Keltner will represent Clay County. Shelby will also perform her one-woman play Pistol Packin' Woman, a Kentucky Chautauqua presented by the Kentucky Humanities Council, Inc. which brings to life Bell County activist and singer Aunt Molly Jackson. Other performers at the festival include gospel singers Ron and Sarah Howard of Perry County, banjo picker Brett Ratliff and fiddlers Jamie and Jesse Wells from Johnson County, Letcher County singer-songwriter and dancer Carla Gover, Knott County banjo master George Gibson, and the Mount Sinai Spirituals, an a cappella gospel group from Harlan County. The festival's opening event, Kentucky Musicians: Musical Traditions, takes place at 3 PM on Thursday October 15 in Phelps-Stokes Chapel. Free and open to the public, this event will feature six of these musical groups from Eastern Kentucky in concert and conversation.
Through collaboration with the Library of Congress, the Association for Cultural Equity, and the University of Kentucky, Berea College's Special Collections and Archives has received historic recordings of Eastern Kentucky music made by folklorist Alan Lomax. The official launch of these recordings will be held on Thursday October 15 in Hutchins Library at 6:30 p.m., featuring a presentation by fiddler and music scholar Bruce Greene.
On Friday October 16, Nathan Salsburg, curator of the Alan Lomax Archive, will speak about Lomax's Eastern Kentucky recordings at the Loyal Jones Appalachian Center at noon. A light lunch will be served at 11:45 a.m. The Mount Sinai Spirituals will offer a gospel singing workshop in Stephenson Hall at 1:30 p.m.; all participants are welcome. Then at 3:00 at the Loyal Jones Appalachian Center in Stephenson Hall, Anne Shelby will present Pistol Packin' Woman, a one-woman play based on the life and music of Aunt Molly Jackson.
Evening concerts will feature all festival performers and will be held from 7:00-9:00 p.m. at Phelps-Stokes Chapel on Friday and Saturday, October 16 and 17. Admission is free with Berea College ID and for children under age 10; $10.00 admission for adults. In addition to the performers already mentioned, the concerts will feature a bluegrass band of students from Hazard Community Technical College at Hyden called Straight Up Lonesome, as well as the Berea College Bluegrass Ensemble and Folk Roots Ensemble. Please see the online schedule to learn which performers will appear at each concert.
A round of songs and stories in remembrance of Jean Ritchie will be held at Stephenson Hall at 1 p.m. on Saturday, October 17. Throughout Saturday afternoon, the Celebration will hold participatory workshops and discussions on banjo, fiddle, songwriting and dance taught by festival musicians in Stephenson Hall. No registration or fee is required.
On Saturday morning October 17, at 11:30, join the Berea College Country Dancers and square dance caller Peter Rogers for a Dance Playshop in the Alumni Building's Carter G. Woodson Center lobby. Peter Rogers will also lead a square dance at 9:30 p.m. on October 17 in the Woods-Penniman Commons, accompanied by the all-star band of festival musicians. No previous experience is required.
The Celebration concludes on Sunday October 18 with a hymn sing led by Deborah Thompson and the festival performers, to be held at Union Church at 9 a.m.
A complete schedule of events and list of performers is available online at https://www.berea.edu/ac/ctm. For more information regarding the Celebration, please contact Sam Gleaves at or 859-985-3159.